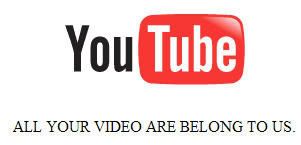 Due to my insane amount of Youtube use, I have decided to create a weekly column dedicated to the most popular video sharing site on the Interwebs.. Youtube. Each week I will give you the list of the top 5 videos I've seen on Youtube. Check them out after the jump.
Top 5 for the Week ending on Sunday November 23, 2008
#5 Facebook Parody.
This is hilarious as it makes you think about how ridiculous Facebook is sometimes.
#4 Scarlet Takes A Tumble.
Kind of cruel.. but I can't help myself from laughing.
#3 Genki Sudo on the popular show Japanese show: "Can you Speak English".
Japanese people are hilarious. XD
#2 Allison on A&E Intervention.
This is a show for people that are addicted to something. This is a real episode and not a fake. Crazy..
#1 Faceoff Volume 4: Shinya Aoki vs Gesias "JZ" Cavalcanti
Technically not on youtube, but it got erased and put on dailymotion.Regardless beautiful Highlight and you should watch it even if you aren't a fan of MMA.
Well, that will do it for this week. I hope you enjoyed the videos. Please leave some feedback about any changes you'd like to see or whether or not you enjoyed the videos. See you next week.